Gentle Yoga with Teri & Jessica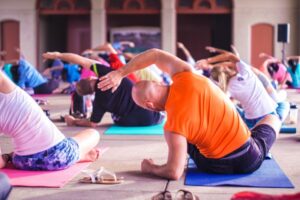 This is a drop-in class – no registration required.
Use Purple "Gentle Yoga" button to join via Zoom.
Engage your body, mind and spirit, which may lead to a feeling of self-reliance and control over your pain.
Provide long-term preventive relief, through improved posture, breathing techniques, and stress reduction.
Make you more aware of your body – balance, posture and proper alignment will be a renewed focus in your life.
Soothe your mind, which in turn can produce a relaxed, calm and meditative state that can lessen pain.
Strengthen your abdominal and leg muscles and increase blood flow.
*Please check with your health care provider before engaging in any exercise program.